One of my favorite bosses was known for his thank-you notes. Despite being a busy CEO, he always found time to thank those who had done a good job or done a favor for him. Nothing made my day more than coming into work and seeing one of his handwritten notes sitting on my desk. (And absolutely no one could beat him in his promptness.)
It's a simple thing, but one that really stands out in today's world of texts and emails. It's also a lesson I want to instill in our girls.
Each year, our troop says thank-you to a number of people, including guest speakers who volunteer their time, businesses who welcome us in for field trips and our dedicated cookie manager. We know it's important to show our appreciation, but too often, we've been a little lazy or disorganized about it. (Nothing like scrounging through your desk drawer right before a meeting to find a thank-you card for the girls to sign.)
This year, we wanted to approach it differently. So at tonight's meeting, we had each of the girls decorate a couple of thank-you cards. The plan is to keep the cards in our file throughout the year, and whenever we have someone to thank, we can pull one out, have one of the girls pen the message and all of the girls sign it. By giving them each an opportunity to write the thank-you note, we hope they'll get some practice in this important skill.
We have a fair amount of scrapbooking and stamping supplies around our house, so it wasn't hard to scrounge up some ideas. Of course, I completely forgot to take pictures, so I'll have to post some later. But even if you're working on a tight budget, there are some really cute (and simple) ideas out there, like these: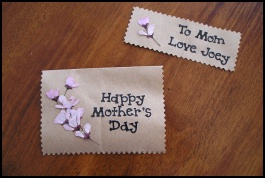 The bonus: Besides being a good lesson for all, this will also help our Juniors complete Activity #4 of the Social Butterfly badge.